Colonial Classic's Mission
---

We were extremely blessed to be able to donate over $75,000 to 20 plus non-profit organizations, schools, and clubs in 2020. A big THANK YOU to our customers for helping make that possible!
Colonial Classics is your local garden and landscape expert. You can trust our local experts with a 60+ year tradition of horticultural excellence to care of all your outdoor needs. We offer a variety of landscape services from landscape design, and full landscape installation to simple plantings and home garden consultations.
Our guiding philosophy is to provide a work experience that will enable people to achieve their full potential and offer the best value of goods and services to beautify our customers' environment.
Where We Started
Jim McCarty, Sr. ventured into the relatively new field of retail garden centers in 1958 and opened Colonial Classics Landscape & Nursery, Inc. The original structure was a two car garage with a gravel floor, located at the corner of Green River Road and Washington Avenue, in Evansville, IN. Within two years, the construction of a more permanent facility was completed and housed the flagship store and corporate offices at 735 S. Green River Road.
As the business grew, it developed a variety of important divisions, including:
Landscape Contracting
Landscape Maintenance
Christmas Novelty
Everyday Giftware and Accessories
Casual Furniture
Greenhouse Production and Distribution Facility
Colonial Classics had expanded to as many as 5 key locations throughout the Tri-State area.
Then and Now
In 2007, we consolidated our business to one location on Epworth Road in Newburgh, IN, and began specializing in:
Landscape Design and Build
Landscape Maintenance
Garden Center/Nursery
Colonial Classics has built a reputation as a premier company, continuing to offer quality products and outstanding service for more than 60 years. Our competitive wage policies, company benefits and long-term stability help to make Colonial Classics a continued success.
We've even been recognized by the Evansville community. Evansville voted Colonial Classics Landscape and Nursery the Best Garden Center in 2020. 
In The News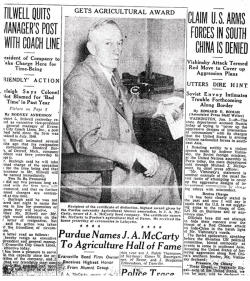 Taking Root – Colonial Classics grows the legacy of a century
Jim McCarty Jr. still remembers the building — a two-car, metal garage with a rhinestone gravel floor and doors that lifted after turning a knob on the front.
McCarty, or J.T. as most call him, was 5 years old when his father Jim McCarty Sr. and grandfather Jacob McCarty opened the first Colonial Garden Center on the corner of Green River Road and Washington Avenue in 1958.